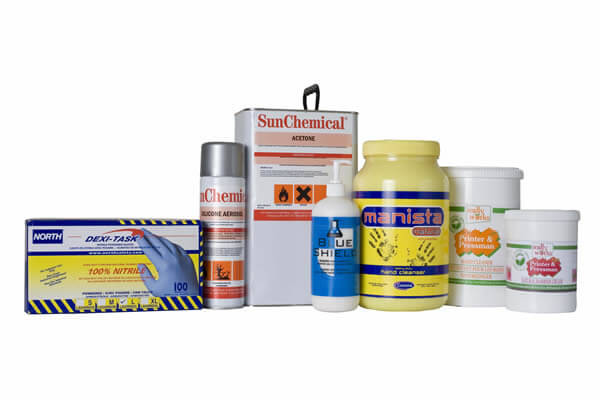 Acetone
Fast drying general purpose spirit cleaner. Strong solvent power, may damage some surfaces. Beware of high flammability. Sold in 5lt cans.
Amberclense
Aerosol cleaner. Non damaging to most surfaces. Foaming action, wipes off to leave clean surface. Contains no polishing agents. Excellent on grained surfaces like office equipment.
Barrier Creams
Comma Barrier Cream Squeezey plastic pack. Economical but not moisture proof.
Wet use barrier cream by Deb, in tubs of various sizes
Cutting Sticks for Guillotines
To suit most Guillotines Generally bought to order, minimum quantities apply in some cases, but not all. Price and availability on enquiry
Disposable Wipers
Large range of disposable wipers available, an idea of the range is detailed below;-
Paper Wipes
Usually in roll form, either centre feed for Wallbox dispensers, or unrolled from outside for floor dispensers. Products include Torks from SCA, recycled paper wipes from various manufacturers
Bonded Wipers
Generally more durable than paper wipes these do not disintegrate in water and are generally resistant to most solvents. Bonded wipes tend to leave little or no lint on surfaces wiped. Too many to list here please ask for more information
Disposable Gloves
Ambidextrous loose fitting glove for one off usage. Economical hand protection from solvents and chemicals. Sold in bags of 100. Like petrol station gloves.
Gauntlet Gloves
Elbow length heavyweight gloves for excellent protection when processing screens with stronger chemicals, and for other jobs requiring good protection.
Nitrile Gloves
Mid Length gloves in nitrile rubber. More resistant to most chemicals and solvents
Disposable Vinyl Gloves
"Surgeon style" tighter fitting gloves with good feel. More durable than disposable gloves Stocked in S,M,L,XL.sizes in boxes of 100
Disposable Latex Gloves
As above but being made of latex are more resistant to stronger solvents
Disposable Nitrile Gloves
As above but being made of nitrile rubber are more resistant to stronger solvents and feel better than the latex.
Hand Cleaners
Hand cleaners stocked include;-
Delmex Cream mildly abrasive hand cleaner with skin conditioners. Sold in 3.5 kg tins
Manista Citrus based, not agressive but effective. Contains plastic beads which massage dirt from skin without abrasion. Sold in 3 & 15kg tubs
Printer and Pressman Also known as "Really Works". Contains pumice powder. Very effective. sold in 4.5lbs tins
Lik 'n Stik Remoistenable Adhesive
Brush or screen on "envelope glue"
Linen Tester (X10)
Folding pocket magnifier, 25mm square objective area Other magnifying devices and pocket microscopes available to order please ask for information.
Magic Tape
"Invisible" adhesive tape. Available in 12/19/25 mm width rolls of 66 m
Sellotape and other adhesive tapes
In 66 mtr rolls 12/19/25mm widths in stock
Silicon Spray
General purpose anti-friction and release product. Spray onto guillotine beds to ease movement, or onto both sides of the blade when cutting self adhesive stock to reduce glue build up..
Snap-Off Blade Knives
Useful pocket knife with replaceable blade, end of blade can be detached to give fresh cutting edge.
Ultraviolet Curing Equipment
Natgraph, who are one of our suppliers, are skilled in the construction of UV curing equipment for both litho and screen-printing applications. Converting normal hot-air driers using a UV bridge is a regular job. Please ask for more details. Some pre-owned equipment may be available from time to time