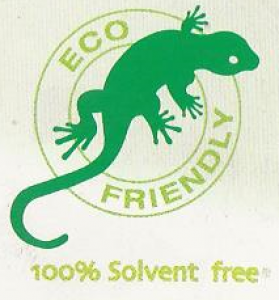 Water Based Screen Inks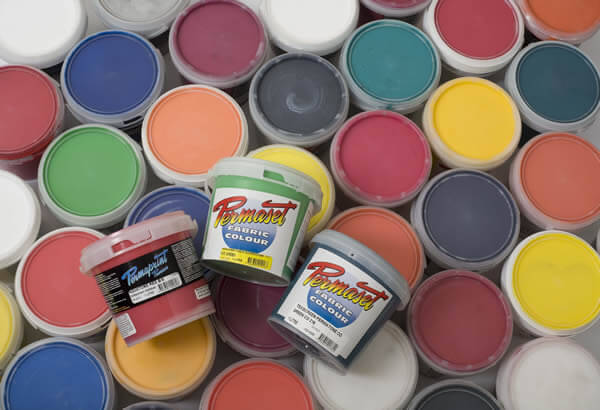 Permaset Aqua is a revolution in textile screen printing
inks. Based on carefully selected pigments and the latest
advances in polymer technology,.
Permaset Aqua includes both Permatone (transparent,
mixing system) and SuperCover (opaque) ranges together
with 4 Metallic and 4 Process colours (CMYK) and a range
of ancilliaries. Each range includes 8 "Glow" fluorescent
colours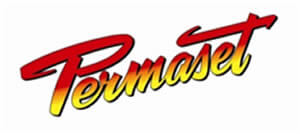 Permatone is a water-based 100% solvent free textile ink,
designed for direct wet-on-wet printing on a wide range of
natural and synthetic fabrics. Heat cured, the unique formula
offers an unsurpassed balance of colour brightness, softness
and durability to wash, rub and dry-clean, eliminating the
need for additives. Permatone also has excellent screen
stability allowing exceptional screen open time.
Permatone is a colour management set designed for
colour matching. The system can produce facsimiles of
937 PMS colours.
As a water-based product, equipment is easily cleaned
with water. After heat fixing, prints exhibit excellent wash,
rub and dry-clean resistance.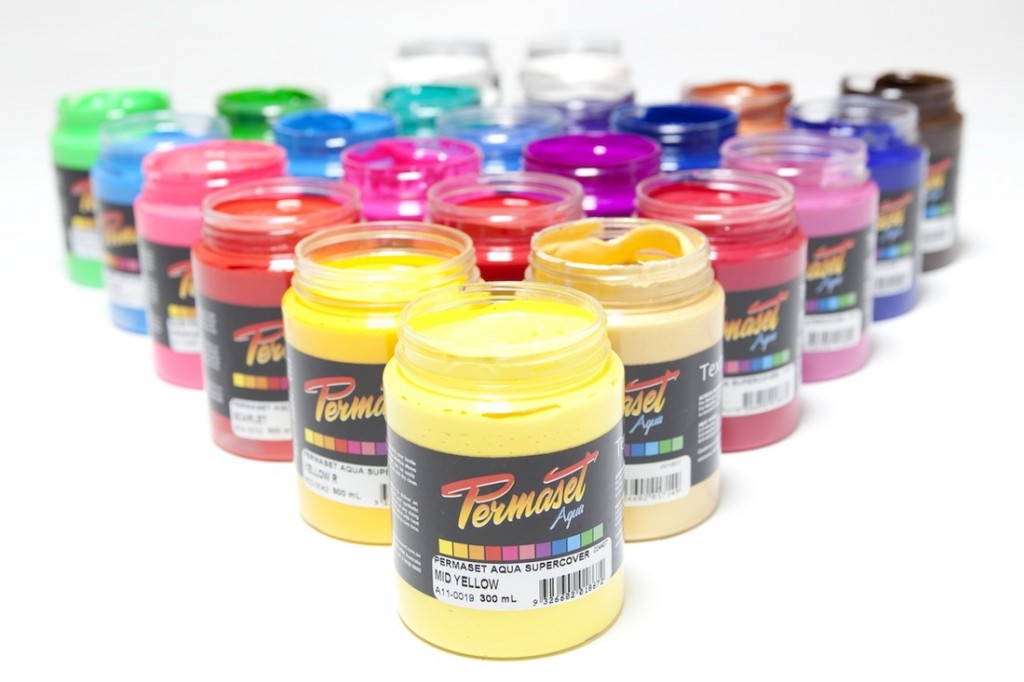 SuperCover colours are specifically designed to provide
excellent coverage and opacity on dark fabrics.
With 50 years of manufacturing experience, Permaset
is recognised by both the fine artist and professional
printing trade as the premier product amongst textile
screen printing inks
Permaset Aqua breaks new ground; a water
based ink that offers superior performance and eliminates
the historical trade-off between printability performance
on the screen and post-production performance of the
finished garment including user comfort and safety and
environmental sustainability.
This 100% solvent free range is environmentally friendly.
The pigments provide intense, vibrant colour, rich in
coverage and deliver exceptional colour yield. The unique
polymer binding the pigment to the fabric delivers
exceptionally soft handle and yet shows excellent
resistance to damage by rub, wash and drycleaning, all
without the need for additives. Ideal for use on a full
range of fabrics including Cotton, Polyester, Silk and most
synthetics. Permaset Aqua is also low in odour and can easily
be cleaned up with water when wet..
Permaset Aqua Permatone inks, FD White, and Process Inks, now approved by Soil Association as non-organic addition to organic products (GOTS Certified)
Also Available;
Permaset Retarder G: To slow drying in screen
Permaset Table Adhesive: Holds prints in place for multicolour prints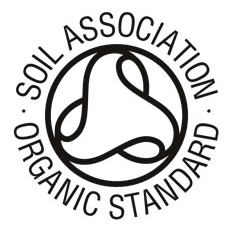 Permaprint Premium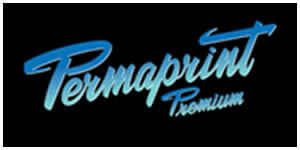 Permaprint Premium is a waterbased screen printing ink that is formulated to provide excellent adhesion on a wide range of substrates. It exhibits exceptional water resistance once dried. This makes it a highly versatile multipurpose screen printing ink that is safe for the printer and friendly to the environment.
Permaprint Premium inks are 100% solvent free, so equipment can be easily cleaned with water and solvent fumes are eliminated.
Suitable Substrates
Permaprint Premium inks are suited to printing on sealed paper, cardboard, tyvek, polyesters (mylar), polycarbonates (lexan), some coated metals and poly-styrene. Care should be taken with some vinyls as plasticizer migration may soften the ink over time. Care should also be taken with some uncoated papers as cockling may occur
Colour Range
9 Standard Colours plus Standard + Opaque Whites, Black Extender, Clear, and Matting Agent.
Also,
Process set (CMY+K),
8 Glow
4 Pearl Colours
Permaset Aqua