SunChemical Screen is one of the most advanced and wide ranging companies in the supply of screen printing commodities. Steve Wood Services are proud to represent them in this area. Nearly all the products in this section supplied by ourselves to this industry come from this organisation. Our screen customers have not only our support, but also that of the not inconsiderable resources of their tech support team. Listed below is an idea of the sort of products available from Steve Wood Services.
Steve Wood Services Colour Matching Service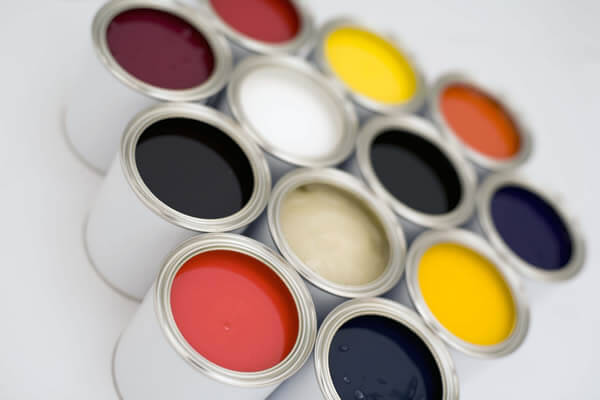 Getting the colour right can be a pain, especially with today's demand for precision colour matchings. If you've had to blend a batch of ink, you'll know that it's not just a messy, time consuming and costly operation, but can involve making far more than is needed, proofing and corrections involve downtime and material wastage, If the job repeats, can you be sure to make exactly the same mix again?
Water-Based Screen Printing Ink
We have a range of high-quality screen-printing inks that are 100% solvent-free and water-based.
We stock the popular water-based links from Permaset, an eco-friendly, Soil Association certified, Global
Organic Textiles Standards approved print ink company who make a range of beautiful colours
Water-based screen-printing ink has the same aesthetic benefits as other printing inks but can have
softer touch because it contains much softer resins and water which evaporates during the curing
stage. This creates a smooth finish on the material. The fact the product is less harmful to the
environment makes it a popular choice for our customers.
Our screen-printing supplies also offer PermaPrint Premium, a product used for screen printing on
materials such as card, paper, and other such like substrates.
We offer as a service
Matched colour delivered rapidly, usually 24-36 hours
Any quantity from 1kg upwards
Colour matches to most recognised colour reference (BS381/4800, PMS, RAL, etc.), or printed / wet samples
All new matchings test printed and sample print provided
The benefits to the printer
Minimum 1 kg. Little or no wasted ink, order what you need for the job.
Delivered to your door in 24-36 hours or faster. We specialise in extracting people from the s***!
Each matching carries a unique reference number, referring to a recorded formula and retained wet sample. Quote that number to get an accurate continuation of supply.
No need to carry a large stock of basic colours.
Steve Wood Services is your friendly colour matching centre, Next time you need a colour matching, save yourself production time, material wastage, hassle, and stress, use our approved colour matching service.
In order for us to provide an accurate colour matching, we require a sample of the substrate upon which it is to be printed, notification of the mesh count of the screen, and any other details relevant to the printing circumstances. It is important that the customer also gives us details of the application and required properties of the finished job, e.g.; inside or outside usage, chemical resistance, lightfastness etc.
Colour matching can be produced from prints, wet samples of ink, Pantone® / British Standards (BS381, BS4800)/ RAL references, etc. Customers are recommended to contact us to discuss their requirements.
Steve Wood Services can match colours in a number of different ink systems, thus enabling the customer to produce work on a wide variety of substrates, however it should be noted that due to variations of pigmentation / finish etc. between these ink ranges, the result may exhibit slight colour variations between ink systems and substrates.
All matching are viewed under artificial or natural daylight unless otherwise requested, however it should be noted that whilst metamerism is reduced wherever possible, the differences in pigmentation between different colour representation systems and the inks may render the matching unavoidably metameric.
Steve Wood Services will be pleased to advise on the applications for any ink system but it should be noted that this information, whilst given in good faith, is given without any liability whatsoever either expressed or implied
All customers are strongly advised to read the relevant Technical Information Sheet and Health & Safety Information Sheet before using any product for the first time. Copies of this documentation are readily available on request.
This information will enable the operative to use the relevant product in safety and to obtain the optimum performance from the product.
The test prints supplied with each new matching are produced under laboratory conditions which may not represent those under which the product is to perform. It is the responsibility of the customer to check the suitability of each batch of the product and that it meets their requirements in all respects before commencing production. Since we cannot anticipate or control the conditions under which our products are used it is not possible to guarantee their performance.
SCREEN INKS
There are a vast range of screen printing inks to cover virtually all applications. To list each product would be overkill! Listed below are the more popular ones handled by Steve Wood Services. Most ranges are available in a mixing range of 12 colours, and 18 standard colours. Process sets available for most applications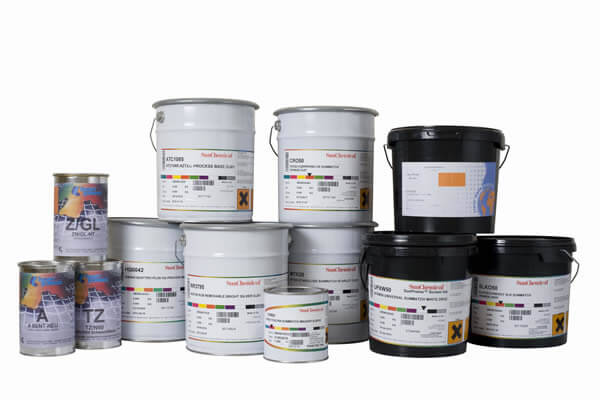 See our full product range here
See dedicated Water Based Inks section New products available!
SOLVENT BASED
With the exception of the fluorescent inks, the pigments from which they are made exhibit high lightfastness properties. Don't forget that lifespan [especially outdoors] is affected by colour intensity [beware of pastel shades!] and installation situation.
See our full range of products here
Check out our dedicated UV cured inks section here
Visit our industrial ink section
See dedicated Water Based Inks section.New products available
See our dedicated Speciality Inks page by clicking here.
MACHINE ROOM SCREENWASHES
925 Economy Screenwash
General purpose economically priced screenwash
11-00 Universal Screenwash
General Purpose "standard" screenwash with excellent solvent power
26-039
Low odour screenwash with no cyclohexanone content. Useful in smaller screen rooms and in inplant situations where the girls in the office next door complain of the smells
26-067
"Clean" screen wash with "Hazard Label Free" status. Works well and is of very low odour. A blend of low odour, low volatility solvents selected for their safety in use and effectiveness in removing screen printing ink residues from screens, squeegee blades and flood coaters. It should be noted that, unlike other more volatile / hazardous washes, this product does not readily evaporate.
OTHER MACHINE ROOM PRODUCTS
Imasol
Good quick drying general purpose spirit cleaner, less aggressive than ketonic solvents. Use to clean acrylic sheets and plastisised p.v.c. prior to printing. Sold in 5lts
Isopropanol
Slower drying alcohol solvent, similar uses to Imasol. Is the ingredient in de-icer which probably explains its level of winter sales.
Ink Knives
Precision ground spring steel knives in both palette and push formats. Variety of sizes. Some plastic 3" push knives available, which are more friendly to screen mesh".
Pantone Colour Guide Book
Latest "two book" version containing over 1000 different colours is the most popular reference. A new version printed in 3 books, coated, uncoated and also matt coated, also contains some new colours. Universally used for colour communication and specification, books should be replaced annually to maintain accuracy. Rather hostile to the screenprinting industry as it was developed for the litho industry and uses litho inks to print it. The pigmentation bears no relation to those used in virtually any screenprinting inks! Forced upon the screenprinting industry by the designers…..…
Paper Masking Tape
Crepe paper self adhesive tape sold in 24 & 48 mm and 72mm widths. Use for edges of screens, it's much better than packing tape.
Plastic Ink Tubs
1.1, 3.0, 5.2 litre plastic tubs that store inside each other before use. Useful when you need to do that odd small mix. Also available are 1.0, 2.0kg tins, and 6.0, 12.0, 15.0, and 20.0 kg metal pails with lids
Screenprinting Machinery
Steve Wood Services are pleased to be able to supply new equipment from top UK. manufacturers. The full range of Kippax and Natgraph products are available, and their catalogues are available on request. We are occasionally also able to offer pre-owned second-hand and re-furbished equipment dependant on what is available at the time of enquiry, however we would be happy to try and locate equipment to suit your needs.
Screen Washout Booths
Made with galvanised steel or other chemical resistant materials, available in a wide range of sizes. Can be supplied as booth alone, or as a complete screen washing facility. with or without vapour extraction facility. Can be used in connection with…..…
Screenwash Recirculation Units
Don't let solvents run down the drain or someone from officialdom will shoot you!. We supply screenwash recirculating units which not only keep you out of trouble but saves a mint on screenwash and can soon pay for themselves.
Squeegee blade
Polyurethane blades in various popular sections and harnesses, made by top quality manufacturers.
Special laminated Hi-Tech blade also available, which has the "working edges" laminated to a firm centre section giving excellent squeegee stability, may be subject to special order, please ask.
Squeegee Handles.
Available in wood or extruded aluminium. Wooden ones are cheaper but can split and warp, and be a swine to fit new blade into! Aluminium handles feel real good to use, last for ages, and are easy to fit new blade into. Cut to order in any length you want, within reason!
Snap-off Blade Knives
Useful pocket knife with replaceable blade, end of blade can be detached to give fresh cutting edge.
Spray Textile Adhesive
Renders the platens on T-shirt presses tacky to prevent the fabric creeping when printed. Used properly it won't adhere the shirt to the wearer later! Special versions for use with flash curers available.
Supersolve Screen Reactivator
A strong but low toxicity ink solvent packaged in aerosol form, for cleaning out dried ink from the mesh. Particularly useful after the lunchbreaks of mid summer! [That assumes that we get a good summer!]
White Spirit
Used as thinner and screenwash for certain types of screen ink.