Screen Printing Inks York
Why Choose Steve Wood Services Ltd?
With over 25 years of experience, Steve Wood has a plethora of knowledge and experience in providing screen printing ink. No matter how big or small the quantity of your order, we will deliver our services with the same care and attention. Steve Wood Ltd has managed to develop a fantastic reputation for going above and beyond our client's expectations.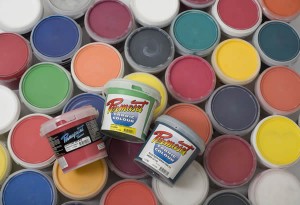 At Steve Wood Services Limited we provide a wide range of high-quality screen printing inks. Some of these include:
Paper & Board Inks

Water-Based Inks

Flat Plastic Inks

Solvent Based Inks

Industrial Inks
Whether it is a small order for a personal artistic hobby or a large order for commercial use, we provide high-quality inks at competitive prices. Based in York, we can supply our services around the local area and beyond. With 25 years of experience, Steve Wood Ltd has the necessary knowledge and experience to provide clients with accurate advice on which screen printing ink is best suited to their needs.
Colour Matching Services
Steve Wood Services Ltd offer an excellent colour matching service to help accurately and effectively match your screen printing ink. Our colour matching allows clients to save time and money by delivering the service without customers having to waste excess ink and worry about the challenge of recreating the mix for further batches.
Benefits of Screen Printing
Screen printing has great versatility and comes with a wide variety of benefits. The speed of the printing process makes it a perfect printing option for those who are looking to print multiple batches. As well as being a quick process the technique is also relatively straightforward so perfect for those who have little to no experience. A great advantage of using screen printing inks is the wide range of surfaces on which they can be used, including fabric, plastic, wood and metal. Steve Wood Ltd offers high-quality screen printing inks at competitive prices for all your printing needs.
Water-Based Inks
Water based inks are better for the environment than many other screen printing inks, due to the fact they use fewer toxins and chemicals in production there is a smaller carbon footprint during production. Using water-based inks has numerous advantages, they are fantastic for soft handle printing. Based in York, Clients can select from a range of bright and beautiful colours at Steve Wood Service Ltd.
Get In Touch
To find out more about the various screen printing inks available from Steve Wood Ltd get in touch with one of our friendly team members. We are more than happy to help you with any questions or queries you have regarding our services.
Call: 01423358989 or, email: screen@steve-wood.co.uk.